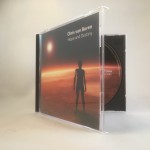 I proudly present my new album "Hope and Destiny" which has officially been released on CDBaby.com today!
All tracks on this album are somehow inspired by the exploration of planets with orbiters, landers and rovers. Hope and Destiny is a story about the exploration of space and the search for extraterrestrial life.
One of the quotes I used on this album is by former president Bush Senior: "History proves that we have never lost by pressing the limits of our frontier. We dream of distant shores we've not yet seen. Why the Moon? Why Mars? Because it's humanity's destiny to strive, to seek, to find".
I decided to release my music as an independent artist with digital distribution on CDBaby, iTunes, Spotify, Amazon and lots of other digital music providers around the world.
For collectors there is a limited edition hardware copy available (e.g. physical CD) which is produced by CFM Media as a CDr in jewel case with printed label and booklet. There will be a maximum of 50 pieces produced and all CD's are numbered and signed. Visit my shop for more info.
Physical CD's are also available on Discogs.com.