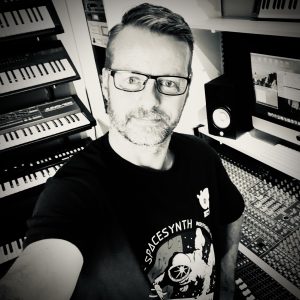 Chris van Buren is a Spacesynth and Italodance producer from the Netherlands. He was born in the city of Rotterdam in June 1971
In the early nineties he was producing housemusic and eurodance, but now he's back and produces the music he loves best; Spacesynth.
Bringing you covers and originals in Italodance and Spacesynth style. Inspired by artists like Koto and Laserdance his tracks are now evolving into his own specific sound. 

Inspired by the following artists and bands:
Koto
Laserdance
Rygar
Syntech
Bobby Orlando
Moby
Patrick Cowley
Giorgio Moroder
Kraftwerk
Ultravox
Trans X
Faithless
Art of Noise
Aliases: NeoSpace, Synbiose, Formax
Releasing on:
Space Sound Records
Hotsound (Hot Music America)
ZYX Records
Spacesynth.ru Label
CFM Media (own label)
CDBaby.com
Unauthorized use of my original music is prohibited, please read my Commercial Statement before contacting me about collaborations or using my tracks for remixes or social media like Facebook or YouTube.
Member of the organization for Dutch music authors and publishers Buma/Stemra: 1024383
Sync Licensing by CDBaby.com
…………………….
"Spacesynth, synthdance, spacedance, spacedisco, synthesizerdance or whatever you want to call it is instrumental upbeat synth music that focuses on melodies instead of rhythm. Driving basslines, catchy synth riffs, sci-fi influences and futuristic track titles and album covers have always been a major part of space synth."
Last updated: March 13, 2023 at 14:46 pm