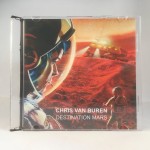 Today I released my first track on CDBaby.com as an independent music artist. I have uploaded "Destination Mars" to their systems, so this will be available on iTunes and Spotify (and so on) in a few days, and of course also on CDBaby.com itself as a digital download.
I decided to stop thinking about cooperation with a music label and take matter in my own hands as an independent artist. Hard copy's of Destination Mars are available aswel it's on CD-R media, with printed label and sleeve, in a very limited edition, numbered and signed (only 30 available). Please send me an e-mail to obtain your copy.
New album
As you might have noticed I am working on a new album right now. This will be finished this spring and will be available on iTunes and Spotify aswel. This album will also be available as hardcopy on CD-R media in a limited edition, but more on that later!
This album will contain ten brand new tracks and some very special remixes of Aim for the Moon and Destination Mars. I am sure you will like it!
Thanks for supporting me by buying a legal copy of my tracks!