Hi there! If you visit my website on a more regular basis you have probably noticed some changes. I have tried to tidy up the design a bit.. You also might have noticed that my shop is gone. Physical CD's are no longer for sale at this point, and next releases probably will be digital only. A new shop with merchandise and goodies is in development.
NeoSpace
I tried to come up with a new project-name for my future releases. I have chosen the name NeoSpace because it pretty much says what it is. I want to break free from predefined Spacesynth styles and produce a new and appealing sound for old and new generation space sound lovers. Of course I will be using old gear to produce my music, and maintain the old analog sound. Occasionally I already used the name on compilation albums.

Youtube
New video's are coming up soon. I was working on a cover for Youtube but it has been delayed, because I want to explore the possibilities to actually release it first. Making video's for Youtube is very time consuming (if done right) but as soon as I find some time I will upload some new stuff. So if you didn't do it already subscribe to my channel and be the first to know.
New projects
I have been working on some tracks for a new retro spacesynth project by Spacesound Records, in cooperation with Eric van Vliet and some other producers. There is no release date yet… but I am sure it will be a very interesting project 😉
See you in space!
It has almost been 4 months since my last post, so it's time for an update.
For those of you who visited my Soundcloud profile lately, you might have wondered where all my tracks have gone. Well I decided to give up on Soundcloud because the amount of people following me there is not as big as I had hoped for. Also there is not a lot of interaction possible in the Soundcloud app, so basically I don't think it is fun anymore.
Having that said.. I want my Youtube channel to be more successful, so I decided to upload more video's on a regular basis. Not only covers, but my own music as well. I know CD Baby does upload my music to Youtube Music, but this is only available in USA region and not in Europe for some reason. My fanbase on Youtube is growing and I get a lot of nice responses there.
So if you want to be the first to know about new video's, subscribe and turn on notifications on my channel 🙂
New projects
So, after summer it's time to get into the studio again. I am working on some new music for a project with I am not allowed to tell much about. But it will be a nice remake of some iconic 80's Spacesynth music. Especially for this project I bought a Casio FZ-1 sampler to be able to mimic the sound they used.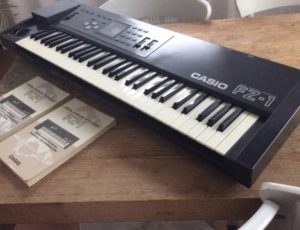 Also this year I will participate in the annual Space Holidays and Space Odyssey compilations, in fact I have some tracks already finished.
Some people might have noticed that I am also trying to produce some trance music lately, so expect me to produce some of that as well this winter.
So thanks for your attention 🙂 Follow and subscribe if you like, and see you next time.
Guys! I am very proud to announce my new 2018 album release on the 15th of June!
The new album is called "Tierra Del Fuego" and is in Spacesynth style with a touch of modern additions 😉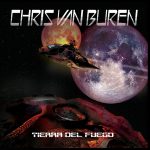 Twelve tracks which some of them have been released on Space Holidays and/or Space Odyssey compilation albums. On this album you will find remastered versions of those tracks, and of course brand new unpublished tracks!
I am pretty sure you will like it!
Official release-date is June 15 2018, and is available on Spotify, Deezer and all those other streaming services and download sites now!
Hardware copies, as in physical CD's, are available and can be ordered at: Discogs and the Shop-page on this website (Paypal only).
All CD's will be autographed by me of course 🙂
I hope you enjoy it as much as I did creating it!
Hi guys!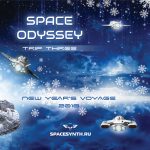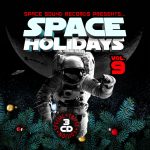 The year has come to an end, and I hope you all had a wonderfull christmas! I also hope you noticed my new end-of-year releases on the annual holiday compilations: Space Holidays and Space Odyssey 🙂
It became a tradition for Spacesynth producers to give away some free music at the end of the year, and try to participate in the well known and much appreciated holiday compilations Space Holidays (USA) and/or Space Odyssey (RU).
This year the Space Holidays compilation consist of 3 CD's and is available for free at Spacesound Records. I am represented with two tracks on the American Spacesynth compilation and with one track at the Russian compilation.
Space Holidays
Drifting into Hyperspace
Future Forecast
Space Odyssey
All three tracks will also be available on my next album in a special album-version 🙂
You can download the Space Holidays compilation at Spacesoundrecords.com and you can download the Space Odyssey compilation at Spacesynth.ru
I hope you all have a wonderfull 2018! and please follow my social media accounts for news on my 2018 album of which I expect it to be released around June this year.
Thanks again for all your support! and Happy New Year!
Summer is drawing to an end, and so it's time to start producing some music again! Actually I am working on a brand new Spacesynth album which will be released maybe in the end of 2017 or at the beginning of 2018. In the past months I have been working on some tracks occasionally, and about 8 tracks are about 90% finished. These 8 tracks still need some attention and I need to make some more, which will happen as soon as I find some energy and inspiration again. On this album I try to produce a nice mix between old school Spacesynth and some more modern sounds. Although I like the 90's sound very much we can't keep living in the past, so let's try to elevate this music into todays standards.
I want to expand my musical capabilities so now I am working on some other projects too. I have produced a more Italo kind of track, and I am thinking of asking a singer to sing on it. Actually I maybe could do it myself, but I am not that experienced with singing.. also I would have to practice my Italian accent to be convincing enough to be an Italo artist 😀
I am also working on some trance music, and because of that I 'needed' some other synthesizers to be able to produce the different sounds needed for that kind of music. So I bought a Roland JP8000 and and a nice Korg X5 which I stuffed with JayB's soundsets. Together with my Yamaha AN1x and other vintage gear I can actually produce a very nice trance sound. As my studio grows I have been able to collect a nice versatile range of gear with which I can make a lot of different styles of music now. So it's just a matter of learning 'how it's done' and I am good to go.
Another project I got involved with was SynthOne. Rob van der Guy (Robert Gaj) asked me to join this project because Kenji Tanaka is still missing (since september 2016) and no one has heard of him ever since. As I have been working with Rob and the other members before, this should have worked well, but minor differences of opinion have resulted in a difficult cooperation. At the moment, I do not think the cooperation is viable at all, so I told them I will be working on my own music for the next few months instead.
Although I think collaborating in other projects can be fun, I need my energy and creativity for my own music. So that will always have my priority.
So, thats about it for now, I'll keep you posted!
Hey guys, thanks for visiting my website again!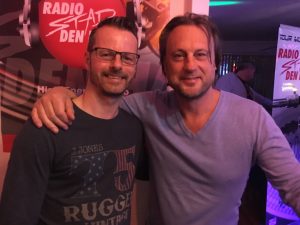 I will give you a quick update on stuff I am working on… or rather… stuff I am NOT working on 🙂
In the summertime I am not in my studio that much because I like to go outside in the summertime as well, to work in my garden, walk the dog or just be with friends and family. Also I like to go scuba-diving or mountain biking every now and then.
In the last couple of weeks I did some vocoder stuff for Areo51, Cyberspace and Oblivion. Also I did a track together with SynthOne under a new project-name called TryTone. We try to work together a bit a make some new music. There is a demo on Soundcloud if you want to hear it.
In my studio there have been some changes; I bought a Roland MKS-70 and managed to get some very interesting sounds on an M-64C cartridge delivered to me by Karel Post (Lone Starr) which contains sounds from MvdK, or so the myth goes… but I asked Michiel this and he can't remember him selling his old MKS-70 to Karel.
Yes, you read that right, I finally got a chance to meet Michiel van der Kuy in person and had a nice conversation with him 🙂 I was in the Radio Stad Den Haag studio at the release party from Marco Di Luna's album Shimmering Stars and so was Michiel. We had a nice chat about gear, music and live in general. It was nice to meet him at last.
So whats next? I don't really know… I am also thinking about doing more in other music-genres. Don't get me wrong I like Spacesynth a lot but I also like Synthpop, Italo and even Trancemusic. So maybe I will start some projects under different names.
So, there wont be much news this summer, but probably I will start producing another album in the autumn.
Hey guys! I thought I would share with you the projects I am working on.
In fact I am working on my new album which will be released in January or February 2017. It is for about 95% done and this album will contain more up-tempo tracks and mixes with other styles.
A few months ago I also started a new Dance project under the name FORMAX. Under this name I will produce some nice trance tracks in the near future, a first glance can be found on Soundcloud.
Last month I bought a Korg DVP-1 Vocoder and I already used it in a new project. German Shlandikov from OBLIVION asked me to make vocoders for one of the tracks on his new album, so I made him some vocoders. And of course the DVP will be used on my own new album as well.
Talking about the holidays: Space Holidays, the annual compilation by Space Sound Records, will contain two of my new tracks as a teaser for my new album. I am proud my music will be part of these compilations and people can obtain them for free from their websites.
Although I like helping people I don't have enough time to answer every request I get. Sometimes young Spacesynth producers ask me all kind of questions or ask me to do a remix. On my desktop three folders are awaiting my attention:
– Mariusz Baranowski: A guy from Poland who made some Spacesynth music in the nineties asked me to do a remix for one of his tracks a long time ago. I simply didn't find the time to work on it, but I will do so in the near future.
– Rebecca Ekman: Unfortenately I had to cancel this project. I had a perfectly good track ready, but miss Ekman was probably too busy making selfies, and didn't answer anymore.
– Fernando Gomez: A starting Spacesynth producer from Spain which asked me to take a look at one of his tracks and maybe do a remix or some improvements.
So as you can see I am very busy at the moment, and I am also trying to find some time to repair old synthesizers and other audio equipment 🙂
See you later!
Hey, it has been a while since I posted here, so it's about time to give you an update!
As you might know our friends from Laserdance: Michiel van ver Kuy and Erik van Vliet released a brand new album: Force of Order. Of course Michiel produced all music and former Hotsound boss Erik is in charge of the marketing of the album. I bought the album on CD and on vinyl, because I am not only making covers, but I am also a true fan who thinks they deserve some kind of reward for their work. By buying a CD I think you can give a compliment to the makers, and besides that I like vinyl 🙂
So whats next? I probably won't make music in Laserdance style anymore, because when they start making music themselves again there's really no point in trying to keep their music 'alive' is there? Also I've already done that, more or less, and am looking for new challenges. So I am working on some new music, and searching for new sounds and mixes of styles. After all, Laserdance is not the only music-style I like. I also like early Synthpop like The Cure, Depeche Mode, Erasure, Yazoo, Eurythmics, Ultravox and so on. And also music from Koto, Divine, Bobby O., Georgio Moroder, Art of Noise as long as it has driving basslines and pumping beats!
I grew up in the eighties and nineties so no wonder I like these styles of music, and of course my music will be inspired by those artists. Also for another project I am working on mixed styles in Trance/Techno and Space synth and Italodance styles. When this will be released it will be most probably under a different name.
So I will not entirely give up on Spacesynth, I am just looking for new ways to integrate other styles into this music. I'll keep you posted!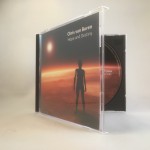 I proudly present my new album "Hope and Destiny" which has officially been released on CDBaby.com today!
All tracks on this album are somehow inspired by the exploration of planets with orbiters, landers and rovers. Hope and Destiny is a story about the exploration of space and the search for extraterrestrial life.
One of the quotes I used on this album is by former president Bush Senior: "History proves that we have never lost by pressing the limits of our frontier. We dream of distant shores we've not yet seen. Why the Moon? Why Mars? Because it's humanity's destiny to strive, to seek, to find".
I decided to release my music as an independent artist with digital distribution on CDBaby, iTunes, Spotify, Amazon and lots of other digital music providers around the world.
For collectors there is a limited edition hardware copy available (e.g. physical CD) which is produced by CFM Media as a CDr in jewel case with printed label and booklet. There will be a maximum of 50 pieces produced and all CD's are numbered and signed. Visit my shop for more info.
Physical CD's are also available on Discogs.com.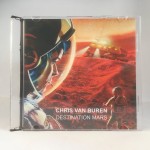 Today I released my first track on CDBaby.com as an independent music artist. I have uploaded "Destination Mars" to their systems, so this will be available on iTunes and Spotify (and so on) in a few days, and of course also on CDBaby.com itself as a digital download.
I decided to stop thinking about cooperation with a music label and take matter in my own hands as an independent artist. Hard copy's of Destination Mars are available aswel it's on CD-R media, with printed label and sleeve, in a very limited edition, numbered and signed (only 30 available). Please send me an e-mail to obtain your copy.
New album
As you might have noticed I am working on a new album right now. This will be finished this spring and will be available on iTunes and Spotify aswel. This album will also be available as hardcopy on CD-R media in a limited edition, but more on that later!
This album will contain ten brand new tracks and some very special remixes of Aim for the Moon and Destination Mars. I am sure you will like it!
Thanks for supporting me by buying a legal copy of my tracks!